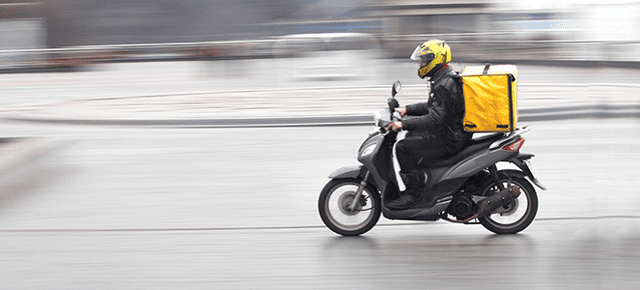 30th March 2023
Delivery Jobs on a Bike
How do you become a motorcycle courier? This quick guide looks at the requirements, earning potential and what to expect when you work as a bike delivery driver in London.
How To be a Motorcycle Courier
As a motorcycle courier, you'll deliver and collect small items like confidential documents. You'll need to be at least 17 years old, with your own motorcycle and an up-to-date licence. You should also have a helmet and the necessary safety equipment.
Companies also look for these qualities in a motorcycle courier:
A good knowledge of the area
Good physical fitness and health
Customer service skills
A responsible attitude
Safe driving habits
Discretion and trustworthiness
Bike Delivery Jobs with Addison Lee
Working as a motorcycle courier can be challenging, as you'll be expected to deal with heavy traffic conditions in all sorts of weather on a regular basis. However, it's also a rewarding job. A bike courier working in London can earn an estimated average salary of £1 024, which is 20% above the national average.
Addison Lee is London's largest same-day courier delivery service. We have a well-established client base of more than 20 000 high-value businesses and individuals, which means we're always looking for reliable couriers to join our team.
All Addison Lee drivers are self-employed, which means you'll be able to set your own hours. You'll also be responsible for your own tax and national insurance. We're happy to offer admin support to our drivers, including assistance with tax returns.
As a motorcycle courier for Addison Lee, you can expect:
Flexible working hours
All bike sizes welcome
Experienced handlers at HQ to help guide and direct you
Ongoing support from backroom staff
Admin support
Fair distribution of jobs
All jobs electronically recorded daily, so you never miss out on payment
Find out more about our bike delivery jobs and become one of our trusted professional motorcycle couriers today.
Related Posts
Most motor vehicles in London are subject to the city's Congestion Charge – a fee for driving in heavy-traffic areas …
Working as a London taxi driver is rewarding and offers great flexibility, but like many jobs, it comes with challenges. …